How To Start A Daycare – A Better Option?
Like most moms, you probably want to be around to help raise your children but with the demands placed on families these days, it is sometimes difficult.
Not too long ago, it was assumed mom would stay home and be with the kids during the day.  It wasn't too common to put them in daycare because most moms just stayed home.
After maternity leave, moms and dads very quickly realize a decision must be made as to who and how the child will be cared for.
(psst … This provides YOU an excellent opportunity!) 😉
Soon, parents are looking for options …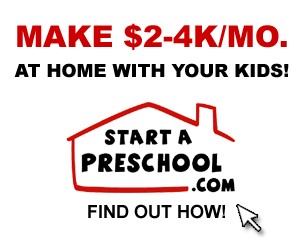 CHILDCARE OPTIONS – DAYCARE OR PRESCHOOL?
Which one is right for you?
Naturally, many moms start looking at childcare as an option to create an income, because they can work from home!  While doing your research, you'll first want to take a look at how to start a daycare and compare it to running a preschool.
As you research how to start a daycare, you'll also want to consider how much money you'll want to invest and who might be working with you.
Q. Is this a project that you will work on with a partner or will you be handling everything yourself?
If you'll be working independently it's probably a good idea to start small to get accustomed to doing it, before growing your business into something larger.
Q.  Are you comfortable working longer hours? 
Most daycares are open at six in the morning and usually don't close until 7 or 8 at night.  I don't know about you, but that is a long day!
Preschools on the other hand are typically are taught in 2 1/2 hour blocks.  This means with preschool you will typically only work 5 hours per day! (And that is considered FULL TIME!)
COMPARING COSTS BETWEEN DAYCARE AND PRESCHOOL
In comparing costs on how to start a daycare versus a starting a preschool, preschools are often less because you are preparing the child for kindergarten and will not have to provide for as many needs such as food during the day, as you do in a daycare setting.
Running a daycare includes taking care of children from six weeks to twelve years old.  A preschool typically only allows a child who is potty trained and is between the ages of two and a half to five years old.  Another thing to also consider is the expense of renting an office space if you are not going to be running it out of the home.  Insurance is another cost you'll want to research when researching how to start a daycare.  Don't forget to also include in the budget any salary for staff members.
CHOOSING THE BEST OPTION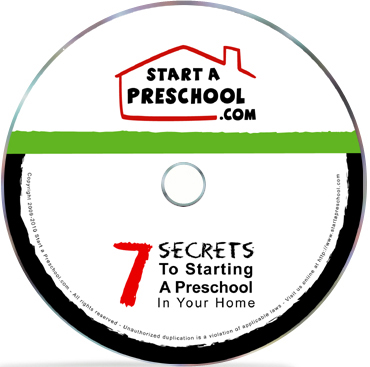 By looking at the differences between daycare and preschool, you'll quickly see that starting a preschool is a lot better option than how to start a daycare.
You can make more money, spend less time working and even work from home.
Starting a preschool is a great option for women who want to spend quality time with her children and make a full-time income.
Joy Anderson started a preschool in her home and now makes a full-time income while spending time with her children daily.
If you've ever considered how to start a daycare in the past, why not start a preschool?
Visit her today at http://www.startapreschool.com and learn her 7 Secrets To Starting A Preschool In Your Home!