Join us as we prove that even in the dead of winter, even in the crappiest economy, you can still fill up a preschool class in 3 days by following some very simple preschool marketing strategies!
Day 1:
Arose today with a lofty goal in sight: print, fold, and stuff over 1,500 flyers and deliver them to the front doors of unexpecting stay-at-home mothers.  After fine-tuning my most profitable flyer design for preschool marketing, I sent it off to UPS to be printed.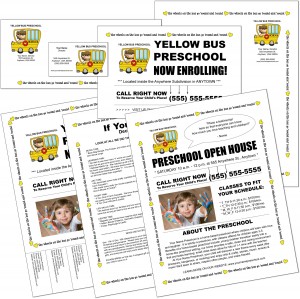 After buckling in my 4-year-old son and driving only 5 minutes across town, I greeted Mark the UPS guy by name (I swear I keep him in business!) to pick up my flyers.  As I went to pick up the ridiculously heavy box, Mark jumped right over and said, "Huh-uh, pregnant women aren't supposed to cart heavy things around!"  Right… tell that to my laundry hamper!
Came home to carry the box OUT of the car, and finally looked inside.  Wow.  1,500 flyers looked like a lot of work!  Now, why 1,500 you may ask?  Because with preschool marketing, for every 100 flyers you pass out, only one person will sign up.
And if I've ever heard a complaint about not being able to fill up a preschool class, THIS is the reason for the failure: they think that if they put out 300 flyers, they'll get 30 students to sign up.  And it's usually not their marketing method that's flawed – it's just the amount of preschool marketing that they're putting out.  Sometimes you have to double, triple, even quadruple your efforts to see an impact.
Now, as I need 10 brand new preschool enrollees, I figured I may as well over-do it to guarantee success.  And I can always use the publicity to help with next fall's enrollment.
I soon made it into a game with my son where I tri-folded a chunk of flyers (with the wording on the outside so you can immediately see it's a preschool marketing flyer) and my son took the chunk and threw each individual folded flyer onto the ground.  He was having a blast.  Then I gathered the partially-folded flyers up and flattened them good.  This continued for several hours, with several snack breaks in between.  (After all, if you expect a child to work with you, sugary rewards are the best payment system!)  And then I took each flyer and stuffed it into a plastic doorknob hanger perfect for preschool marketing when you can't guarantee sunshine and perfect weather.
4 hours later, we were done.  I'm sure there is a better system out there somewhere that does not take 4 hours.  But in any case, we were done.  After that, I put a quick ad on Craigslist for our new preschool class opening up in February –  May and I was all set!
Coming Up Tomorrow: We are all set to deliver the flyers first thing tomorrow morning.  I look forward to hamburgers, fries, and a chocolate-covered ice cream cone to reward us for our hard work when we're finished!
And now that I've given you the run-down of how I tackle a huge box full of flyers, I'd love to hear your comments, thoughts, or tricks of your trade for preschool marketing on what you do that works!
Day 2
This will have to be a very quick post, as I'm headed up to a conference right now.  But my 6 yr. old daughter doesn't have Kindergarten in the morning, so I took her on the road with me for her to hang out the window and put the flyers on the mailbox flags, as it was a beautifully sunny day outside.
The first mailbox was hilarious, as it took at least a minute for her to figure out a system that worked for her.  But pretty soon she was in the swing of things and could put them on almost as quick as I could.  We got out about half of huge stack of flyers, and I will take to the roads early tomorrow morning to finish off the pile.
I've already started receiving calls, saying: You only have 3 spots left!?!  Can I have one!?!  So I'm setting up our interviews for tomorrow night at 7 p.m. and should have a nice houseful of people to sign up!
We'll keep you posted!
Day 3:
Last day of our experiment!  Who's excited!?!  I am!
So today my sweet hubby took a few hours out of his schedule today to deliver flyers with me!  We stocked up on licorice, water, and even some Doritos for those lunch munchies!  We set out with our last stack of 600 flyers and were stoked to get them out quickly!
Note: If you're delivering these flyers via door-to-door, plan on spending an hour to deliver about 100 flyers – but that's only if you're jogging and putting all the flyers into a subdivision with homes close together.  You can cut that time in half (or more!) by hanging the flyers on the mailbox flags and driving them around with a partner.
CAVEAT: MAKE SURE YOU CALL YOUR POST OFFICE TO SEE IF IT'S OKAY IF YOU HANG THEM ON THE MAILBOX FLAGS.
So even after making sure it's okay to do it in my town, I still get a call or two every time I send out flyers from a homeowner who's not particularly happy to get my flyer.  They're usually never angry; instead, they typically want to help me out by saying: I don't know if you know this, but it's illegal to hang these on our mailbox, and I just don't want you to get in trouble.  So I thought I'd call.  I got one of those such calls last night.
As I was in a meeting and couldn't answer the phone, I had to listen to a 2-minute voicemail where a gentleman informed me he hoped I would find different advertising methods in the future (such as direct mail) and that if I had damaged his mailbox flag (which I didn't) that he would come after me to repair the damages.  But even while he was saying all this, he still sounded like he wanted to help me out.  Interesting!
Moving on…
We put on some tunes and started knocking out those flyers!  Boy do I love the track subdivisions that installs everyone's mailbox in the same place with the same type of flag and it's super easy to speed along and knock out 100 super quick.  Always be careful to not run into garbage cans, mailboxes, and parked cars!  I know it sounds obvious, but it's so easy to misjudge the mailbox when you're trying to get close enough for your partner to hang that flyer!
I've changed my interview day for tomorrow at 10 a.m. to hopefully get a bunch of people to sign up at the same time.  And now, all our flyers are done, and I am off to take a long hot bath and soak my aching knees (you have to prop yourself up on the passenger side seat to reach all those mailboxes, and after a few hours, your legs can start really hurting!)
Stay tuned tomorrow for the results of our 3-day Preschool Marketing Experiment!
Experiment Results:
Success!  I was a bit nervous at first with all the rainy weather that had delayed our flyers, but once the sunshine came out I knew we were going to have a great turnout!  We filled up the spots in our brand new class and today was their very first day!  Because I now accept "Independent Almost 3-Year-Olds" that allows me to get a child into the preschool for almost 3 full preschool years.  This is a great way to ensure the continuity of your preschool program without much effort on your part to get new enrollments each year!
And now that I've filled up this class, I have 10 new families that will continue on with us in the Fall/Winter session next year as well!
I wish you all the best in your own marketing pursuits, and keep me updated on your preschool's progress!