How To Prepare For Preschool In 5 Minutes Or Less!
Sep 10th, 2010 | By
Joy Anderson
| Category:
Featured Articles
,
Preschool Activities
,
starting a preschool
,
Teaching Tips
I'll be honest.  There's one thing I don't like about preschool:
Prep Time.
And if I had to survey 100 preschool or child care teachers I bet they'd agree: Prepping for preschool takes too much of our time, and we'd rather spend it with our families.
So what does preschool prep time include?  It includes planning the daily schedule, finding activities, creating lesson plans, and getting arts & crafts materials ready for the next day.  And it can take HOURS upon HOURS every day if you don't know how to do it correctly.
And my very first year I did it all wrong.  You see, as soon as I opened my preschool I knew I needed a curriculum to teach from.  So I went on eBay and bought one for $100 that seemed like it would work.  And you know what?
It was a piece of crap!
So I bought a different curriculum.  Same result.  Because each curriculum was made for a daycare where they could spend 5+ hours doing activities, and the themes were stretched out over 5 different days.  It was horrible!  I didn't need that – I just needed a lesson plan that fit a 2-3 hour class.  So what ended up happening was I had to re-write the lesson plans to make them fit for MY preschool.  What a waste of time when I had already spent so much money!
And on top of that, I had to search online every night for even more activities, songs, arts & crafts, and story ideas.  Sure, I could find activities online for free, but it was taking so much time away from my family that I finally had enough.
So I talked with my husband one night and said:
"Honey, I'm going to go online and look for a curriculum again.  And if I can find one that has the lesson plan created for a 2-3 hour class, I'm going to buy it.  Even if it costs $2,000."  He looked at me sort of surprised, but then replied: "I know you spend a ton of time trying to create your own lesson plans.  So if it will help you spend more time with the family and less time preparing for preschool, then it's worth it."
And you know what?
I searched for hours to try to find such a curriculum.  And I couldn't even find one!  I was so frustrated!  I was ready to drop $2,000 – I was ready to just hand over my money to some company that could provide the solution to my problems.  But no one had the solution.  Every curriculum out there was made for a daycare setting where the lesson plans stretched 4-5 hours each day.
So, unable to buy a curriculum that would fit my preschool, I decided to create one instead.  Because I knew that every other year I would be teaching the same curriculum (we have a 2-year revolving curriculum so preschoolers don't get the same lesson plans two years in a row) I realized that I had two choices:
Continue to create lesson plans every day for as many years as I taught preschool -or-
Create a year's worth of curriculum that I could use every other year
I chose option #2, and created our FUNDAMENTALS Preschool Curriculum.  It features a fun, theme-based, activity-rich curriculum with weekly themes that correspond with a letter.  For instance,  A is for "Astronomy," and B is for "Baking."  It has 36 weekly themes (26 alphabet-based themes, and 10 holiday themes) which makes 9 months' worth of lesson plans, printables, field trip & snack ideas, and so much more!
Each day follows the same schedule and it's so easy to understand that even a new teacher can take our curriculum and be ready to teach within 5 minutes of reading the lesson plan.  In addition, I made sure that the activities included little prep time and low-cost arts & crafts.
We've had tons of students purchase our curriculum and later tell us how much they love it:
Cara Larsen, of Rising Stars Academy says "The more I use [the curriculum], the more I know I have made a great investment in my business and in the education of my students.  I especially love how fun and easy to plan the lessons are."
Heather Langer comments, "To have all of the information laid out in front of you is ingenious.  I have spent countless hours researching curriculum to teach my own children, so I can imagine how much work was put in to this."
And Cathy Yoder says, "[Your curriculum] is heaven sent and I wish I had it when I started my own preschool 3 years ago!  It would have saved me sooo much time!  I spent hours and hours trying to find supplies, ideas for curriculum, trying to figure out what skills 3 and 4 year olds should know.  I am absolutely THRILLED (yes, that's all caps!) that you put this together!"
So here's the deal:
I know you're tired of spending hours finding activities and creating lesson plans for your children.  I know you'd be willing to spend a little money if you could find a curriculum that told you exactly what to do and only required 5 minutes of prep each day.  But you obviously don't want to purchase it until you see what's inside, and make sure it's for you, right?
So I'm going to give you an entire week's lesson plan for you to review and make sure you like it.
CLICK HERE TO SEE OUR "ASTRONOMY" LESSON PLAN.
And if you can see the value in our curriculum, if you can see how many hours you can save (and spend with your family instead!) then I want you to purchase our curriculum so you can have a much more enjoyable preschool year ahead of you.  You'll be glad you did!  Everything is included on our CD-ROM, but you also have the option to purchase the 500-page manual as well below.
PURCHASE THE MANUAL + CD-ROM FOR JUST $197.00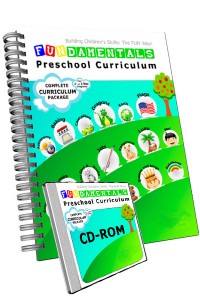 -or-
PURCHASE THE CD-ROM FOR JUST $97.00