I know that times have been tough financially, and with the economy as it is, it seems that 2-income families are more the norm and not the exception.  Women, wives, mothers, and even grandmothers are entering corporate America (and even settling for lower-priced jobs just to get a paycheck) at a rate higher than ever before.
What is happening to the ideal of being able to stay home with your children?  It's sad.  Really.  And I went through it myself two years ago when my status as a stay-at-home mom of 8 years shattered, and left me as a single mom of 3 young children trying to pick up the pieces after a divorce.  I had to find a way to support my family, now that I was on my own.  I felt as if there were no options for me, and that I would have to join the 9-5 grind, and put my kids in daycare just so I could get a paycheck.
Well, I put my foot down.  And refused to go to work and leave my children in someone else's care.
And then I found a better way.
A job where I could stay home with my children and spend quality time with them WHILE I worked.  And before you think it, let me just say I did not start a home daycare.
Nope – that's not it at all.
So what do I do, and why do I love it so much?
I teach preschool classes in my home to children ages 3-5… and I make a full-time income only working 5 hrs. a day.
Sound too good to be true?
Well, it is too good.  Too good that I can hardly believe I've been able to support them on my own with this one rewarding job.  But it's also true.  And I'm even teaching women across America (and the world!) how to start preschools in their own homes.  Some women are only teaching a few classes to pay extra bills, and some are teaching more classes to bring in a full-time income.  Did you know they (and I) are getting paid over $40/hr. to teach!?!
Want to make $40/hr.?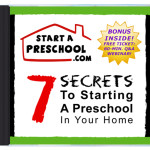 Find out more about this incredible opportunity below, and even find out how you can get my FREE CD with 7 of my most valuable secrets so you can start a preschool in your own home and be able to earn an extra income each month.
I'd love to tell you more about my story! Click here to watch a free video and see how you can get my FREE CD gift to you.