Hi!  I'm Joy Anderson!  When it comes to starting a preschool in your home, you'll have no better instructor than me.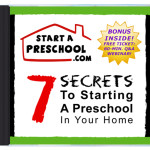 I have had the pleasure of helping thousands of women from all over the world and all walks of life start preschools in their home.  Women from Africa to Australia to India have all listened to my FREE CD on how to start a preschool.
I know you are busy…(who isn't these days)  Just give me 2 minutes and I'll show you why a preschool business may be THE BEST thing you can do for your family.
I'm going to be honest, a home preschool is a wonderful way to make some money AND it allows you to be able to stay at home with your family!  If you are like me, you would much rather work from home than go to a job all day and put your kids in daycare.
Even if you don't have children at home, starting a preschool can solve your money issues and allow you not to have to go find a job!  AND… you can feel good about helping and teaching children, helping them grow and developing their life skills before they head to Kindergarten.
Being a stay-at-home mom for 8 years, I never had to worry about our income, because I was able to stay at home.  All that supposed security came to an abrupt end a few of years ago when I became a single mom and needed to make the primary source of income for my family.
When looking at my options, I grew desperate because I did NOT want to leave my kids to a daycare while I worked all day.
I WANTED TO STAY HOME WITH MY KIDS!
After looking at all my options, a home preschool seemed to be the best of both worlds: it allowed me to work from home -and- spend time with my kids.
If you have young children, it's even better!  Because now your children can get a FREE education before they head to school.  You only need to work 2-5 hours a day, and the good news is that is considered Full-Time!  Many preschool teachers decide they only want to have a morning or an afternoon class and work part-time.  It's up to you!
For me, I needed a full-time income so I taught two 2 ½ hour classes each day, and I'm able to bring in over $4,000 a month!
What I can promise is that you will absolutely love my #1 SECRET To Starting A Preschool In Your Home!