Ever wanted to cheer someone up with a thoughtful, original idea, but had no idea what that idea should be?  Have no fear – have some FUN and create a candy bar message for your friend or loved one!
Here's how to do it:
STEP ONE: GO TO THE GROCERY STORE AND BUY CANDY BARS… A LOT OF CANDY BARS!
Choose candy bars or candies that have a fun brand name that could be used for a word in your message, such as:
100 GRAND
5TH AVENUE
PAYDAY
NOW & LATER
AIRHEADS
MOUNDS
DOVE
SKOR
TWIX
NERDS
SNICKER(S)
REECE'S PIECES
SUGAR DADDY
SWEETART
LIFESAVER
ALMOND JOY
RIESEN (REASON)
STARBURST
SYMPHONY
BUTTERFINGER
ROLLO (ROLLOVER)
HUGS & KISSES
MR. GOODBAR
MILKY WAY
MARS
CRUNCH
WHOPPERS
SUGAR BABIES
FUN DIP
SPECIAL (Hershey's special dark)
SMARTIES
ROCKY ROAD
FAST BREAK
RUNTS
STEP TWO: WRITE YOUR MESSAGE USING AS MANY CANDY BARS AS POSSIBLE!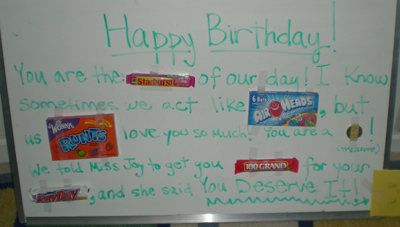 It helps if you have a marker board, or some other hard board to write onto (Dollar Tree sells hard display boards for just $1!)  When you're writing, get creative!  Use a sharpie marker to X-out any part of the candy bar name that doesn't apply to the message.  And if you get stuck, you can always put a candy bar up there and then put what it's supposed to be down below.
Here was my message from the preschoolers to my teacher on her birthday:
HAPPY BIRTHDAY!  You are the STARBURST of our day!  I know sometimes we act like AIRHEADS but us RUNTS love you so much!  You are a TREASURE!  (Gold coin).  We told Miss Joy to get you 100 GRAND for your PAYDAY, and she said You Deserve It!
STEP THREE: FINISH OFF WITH A FUN GIFT FOR YOUR FRIEND OR LOVED ONE!
When it comes to gifts, I think cash is king, so I put together a fun card for my teacher to read to make her THINK she was getting cash…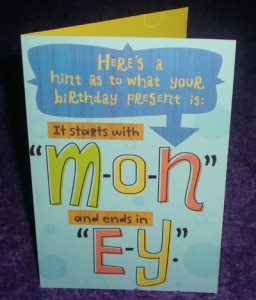 It says: "Here's a hint to what your present is.  It starts with: 'M-O-N' and ends with 'E-Y.'"
Money, right?
NOPE!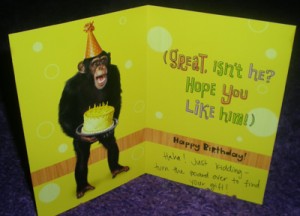 "M-O-N-K-E-Y!"  Then on the bottom of the card it said, "Ha ha!  Just kidding!  Turn the board over to find your REAL gift!"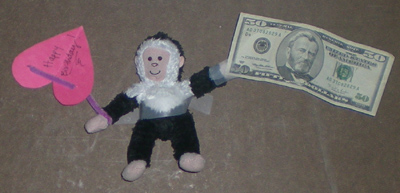 I finished it off with a monkey taped to the board with him holding a sign saying "Happy Birthday!" in one hand, and a $50 bill in the other hand!
She loved it!  And I know whoever you send your candy bar card to will love it also!
YOUR TURN!
Who thinks they can come up with a message using the MOST of the candy bars listed above?  Write it in the comments below and I'll post 'em as they come in!  Have fun!