So I've been pretty much M-I-A these past two months as I've been working 24-7 (and some nights not even sleeping!) on renovating our second preschool house!
Enjoy this fun 16-minute video of the entire renovation!  (Then keep reading below to see the whole story!)
When we doubled enrollment over the summer, we knew we needed a second place for them – their own dedicated space!
What we didn't know was that we would spend almost 4 MONTHS trying to navigate all the red tape over at Planning & Zoning to try to get a second preschool location!  Finally, after getting shut down time after time with places we put up for review, we asked P&Z where they wanted us to go.
They suggested we get a property kitty-corner from the city park, a 1970s home that had once been a daycare but sat vacant for 2 years.  It was already commercially zoned.  And we didn't need a Special Use Permit.  After going through all the bureaucracy we just went through, this sounded like MUSIC TO OUR EARS!  We couldn't wait to see it!
The Property: Before
What we saw when we got there, though, had us seriously reconsidering if this place was right for us!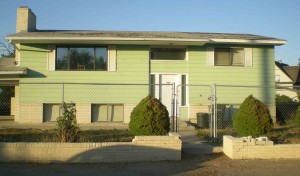 The roof was falling apart, the gutter was falling off, the yard was overgrown with weeds, a 6′ chain link fence surrounded the entire property, the walls were painted blue, the floors were ripped up, and the kitchen and bathrooms were outdated.
It actually took us a couple of months to think about the property, analyzing how it could work for us, how much it would cost to renovate it and bring it up to the premier excellence our community has come to expect with our preschool.
But once we realized all the renovations were merely cosmetic, and that in a year, we could recoup all the renovation costs with our additional preschool classes, we moved forward with an intensity I haven't felt since starting my first preschool four years ago!
Within a week, we started demolition and immediately ripped up the 6′ chain link fence on the front of the property.  We ripped off the roof and gutters, tore out the rickety deck stairs, pulled out all the existing landscaping, and set to work with a fresh canvas.
We installed a sprinkler system, hydroseeded the first week of September, put up a new roof and gutters, planted new bushes and flowers, created a paver wall, painted the entire house RED, built a handicap ramp and new deck stairs, and built a 4′ picket fence around the entire front of the house, as well as 6′ privacy fence sides for a backyard.
The Schoolhouse: After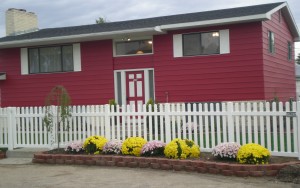 And that was just on the OUTSIDE!
From there, we moved inside and painted all the walls upstairs a soft beige and the downstairs walls white to brighten up the space.  We tore out the bathroom toilets and sinks and replaced with handicap-accessible fixtures.  We carpeted the entire house, put vinyl flooring in the art areas of the preschool rooms, and tiled the entryway.  We replaced all the lighting with modern lighting fixtures and replaced all the wooden doors with white 6-paneled doors and silver hardware.  (Super important whenever you're updating an older property: spend the extra money to replace all the GOLD hardware on door handles, lighting hinges, cabinets, drawer pulls, etc. with silver or pewter hardware!  Otherwise it will still look outdated, no matter what color you paint the wood.)
It took just 2 months from start to finish, which is a miracle in and of itself!
After that, it was time to decorate!  We have over 2,000 sq. ft., half of which will be used for (2) preschool rooms downstairs, and half of which will be used to house our brand new private kindergarten program upstairs next fall!
YOUR TURN!
I'd love to hear your comments! What do you think!?!  Questions?
Get the 7 Free Secrets
to Starting a Preschool in Your Home
LIMITED TIME - Sign Up now and get FREE instant access to my 6-page Blueprint!