I hope you're planning a fun Thanksgiving with your family!  Preschool is out for a week for Thanksgiving, so we're spending it with my hubby's family in Texas!
Now remember, we live in Boise, ID.  So you're probably guessing that we flew, right?  Oh no, that would be too boring!  Instead, we set off on a 30-hr. road trip (one-way!) with 2 adults, 4 kids, and 1 baby!
Now we could have driven non-stop for 2 days, with only one destination in mind, but where's the fun in that?  So instead, we decided to take 10 days off and really enjoy ourselves while showing off America's beautiful landmarks to our children!
Preparing for the 10-Day Trip
The week before the road trip came in a whirl-wind with pre-Thanksgiving activities at preschool which included Parent Teacher Conferences and a most delicious Favorite Food Feast!
And the entire time I was continually reminded how lucky I was to be able to take off 10 days with my family.
I mean, really, who does that!?!
Seriously, every day I am so thankful that we own our own preschool business and are in control of our own schedule so we can take time off for our family whenever we want.
So on Friday at 1 a.m. we packed 5 sleeping kids intour white Honda Odyssey and drove off into the star-liblack night, ready for the adventure of our lives!
My sweet hubby took the very long first shift of driving, and when we awoke the next morning, the first thing we saw was white-tipped blue mountains and a faint hint of snow on the ground.  As the fog settled at the base of the majestic mountains in Utah, I heard several Oooh's and Aaah's from the backseat.
Utah in November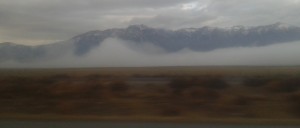 "Wow," I thought to myself.  "What a perfect start to our trip."
Out of habit, I checked my phone for messages.  There were none.  Then I remembered that I had set everything up before I left so I wouldn't have to work at all for those 10 days.
"This is going to be a great vacation!" I thought as I happily sighed and then turned around to play "Store" with the kids.
As we headed South towards Arizona, the scenery changed slowly into stunning orange and red rocks.  I don't know if they're called buttes, plateaus, or mountains, but whatever they are: they're breath-taking.  The older 3 snapped picture after picture with their DS's, and my son's voice was repeatedly heard yelling from the backseat:  "Take a picture of THAT!"
Canyons Near Arizona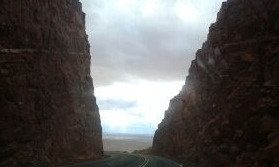 The kids knew we were going to Texas, but they were oblivious to how we got there, or what we would see on the way.  As the saying goes, they were there for the ride.
And I must say, since starting our own preschool, we've noticed that our children are a lot more relaxed and content because we've been able to spend more quality time with them.
Heading to the Grand Canyon
Playing on their "la-la-ness" (yes, that is a word, and it means they're in their own la-la world) my hubby decided it would be fun to surprise them with a visit to the Grand Canyon!  After all, the kids had no idea we were just minutes away!
We had them close their eyes tight (our 2-year-old couldn't help but peek!) and we drove up the windy road.  It was a bit of a struggle getting all the kids out of the car when they couldn't see, but finally we were ready with our 2-year-old in an umbrella stroller, one child holding onto each of the handles, me pushing the stroller, my hubby holding my oldest daughter's hand while lugging a very heavy baby carseat in his other arm.  Oh yes, we were ready!
We strolled along in the brisk November air among the sea of foreigners, being pushed forward with the hint of anticipation.
Our children had no idea what the surprise was, as was evidenced by their guesses along the way, still with eyes closed tight:  "Maybe we're going on a roller coaster!"  "Maybe we're going to a hotel!"  "Maybe we're going to a pool!"
I can't really blame them, though, for having such fun-filled guesses, as we've taken quite a few exciting vacations over the years since we started our preschool.  Now don't get me wrong, we're not rich by any stretch of the imagination; we're just able to live comfortably without having to stress out about money.
As we drew closer to our destination, I imagined walking our children up to the edge of the Grand Canyon and on the count of 3, letting them open their eyes to the sight of their life!  But perhaps we should have prepped them with WHAT they were going to see, because as we counted to 3 and they opened their eyes, I will admit…
I think they were a bit disappointed that we hadn't taken them on a roller coaster, or to a hotel, or to a pool.
But after the initial shock wore off, and as they took in the panoramic beauty before them, we saw their eyes open a little wider as wonder trickled in and they finally realized what they were looking at: one of the 7 Wonders of the World –
The Grand Canyon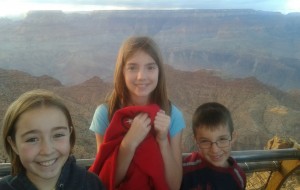 And in that moment, I wished that every day was as beautiful, as rewarding, and as fulfilling as spending that moment with my family.
So here's to running your own preschool business… being in charge of your own schedule to be able to spend quality time with your family, and having enough money to be able to live comfortably and enjoy some fun times with your family.
We're off to our next adventure, so wish us well!
YOUR TURN!
Be sure to share below all the fun experiences and benefits you've had because of your own preschool business!  (Or share all the hopes and dreams you'll achieve once you start your own preschool!)