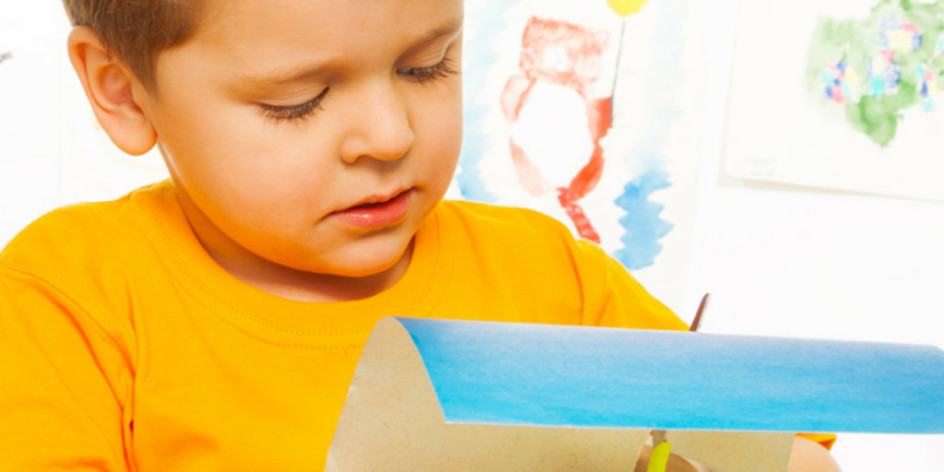 We often hear our preschool parents asking us how to teach preschoolers to cut with scissors, so we thought we'd share our answer with you as well in case you have the same difficulty in your preschool or with your own child.
Like any developmental skill, learning to cut with scissors comes in stages. While preschoolers will hit these stages at different ages, they generally follow this progression as they learn to cut with scissors. At all stages, be sure to use age-appropriate scissors for your preschoolers and always teach proper scissor safety.
Holding Scissors With Two Hands
Skill Explained: Some children have never used scissors before coming to preschool, and will likely be confused on how to use them.  You'll often see young children picking up scissors with two hands. They try to open and close them with two hands as well.
While the scissors may cut air, it sure is difficult for preschoolers to cut paper with scissors when they're not holding the paper with any hands.
How To Teach: We often introduce scissors with an alligator analogy. The metal blades are the alligator's mouth, and the paper is the alligator's food. As we teach preschoolers to cut with scissors, we remind them that alligators can ONLY eat paper. Encourage preschoolers to hold their scissors in one hand, with their thumb in the little opening and all their other fingers in the big opening.
Hand position ("Thumbs Up!") can be taught at this stage, but most likely won't be picked up quite yet. Encourage the children to hold their paper with their other hand, and then "chomp" the paper.
Snipping Paper
Skill Explained: As preschoolers progress, they'll begin holding their scissors with one dominant hand, and holding the paper with the other hand. Then they will begin to "snip" the edges of the paper, without pushing their arm forward to continue the cut. Often, their thumb is under the paper, and their other fingers are above the paper.
How To Teach: Be sure to have left-handed scissors available for any children with a dominant left hand. This is the perfect stage to continue teaching "Thumbs Up!" to your students. Have them physically turn their wrist so that their thumb is on top. Then show them how to open their scissors and place their paper inside the scissor blades with their thumb still on top.
Remind the children that the "Thumbs Up!" position will help their hand to not get tired when they cut.
Cutting Lines
Skill Explained: At this stage, children have usually figured out how to keep their thumbs up. They start cutting a line, and use their writs and arm to push the scissors and cut long lines. Their other hand usually helps guide the paper to keep the line straight.
How To Teach: Once preschoolers have learned to push the scissors forward to cut lines, it's time to teach them how to cut curved lines. Their other hand is especially important in this process, as they will continue to move the paper and guide the scissors as they cut.
Always remember to tell them what a wonderful job they're doing, and not to stress when they accidentally cut pieces off a project. That's what tape is for.
Your Turn!
What other teaching tips can you offer on how to teach preschoolers to cut with scissors? Tell us what works in your classroom or home!
Get the 7 Free Secrets
to Starting a Preschool in Your Home
LIMITED TIME - Sign Up now and get FREE instant access to the Entire 60-minute course.