Join our affiliate team and make money
by putting a link on your website, sending out an email
to your subscribers, or even advertising with our banners.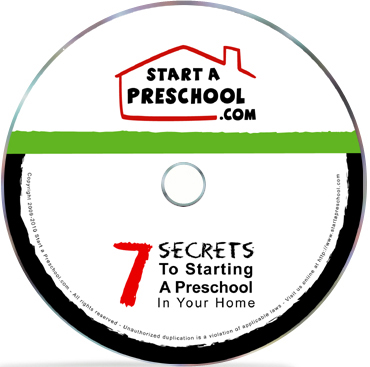 Our Affiliate Program Pays
$10.00 on Level 1 of Every Sale!

MAKE UP TO $60 PER CD YOU GIVE AWAY!
OUR BUSINESS
Start A Preschool is a completely different business model than home daycares. In fact, it's not a daycare at all! And that's why stay-at-home moms, teachers, single women, business women, actually--ALL WOMEN, are loving the idea of teaching preschool classes in their home to make an extra $500, $1,000, even $4,000/mo.! Many women only work 5 hours a week for a supplemental income, while others work 5 hours a day for a full-time income.
OUR PRODUCT
Start A Preschool.com sells a bundle package of the CD shown above ("7 Secrets to Starting a Preschool in Your Home") + a 14-day trial into our "Teachers in Training" membership club for $0 plus $4.95 shipping. Then, after the free trial is over, our customers start paying $37.00/mo. for 6 months to receive the rest of their business training. See the product here.
OUR AFFILIATE PROGRAM
Start A Preschool.com will pay you $10.00 on Level 1 for every sale you refer to us. And because our customers only have a 14-day trial period, you can start earning commissions within 14 days! You will earn $10 per customer EACH MONTH that they stay in our membership program until they cancel. And because we have a 6-month continuity program, each referral is like adding $60 to your pocket! Please note that if your referral cancels before the 14-day trial period expires, you will not receive a commission. Otherwise we would go out of business! This incentive helps our affiliates earn HUGE commissions over the long period (up to $60 PER CD!) instead of only a 1-time $10 pay-out.
Check it out below: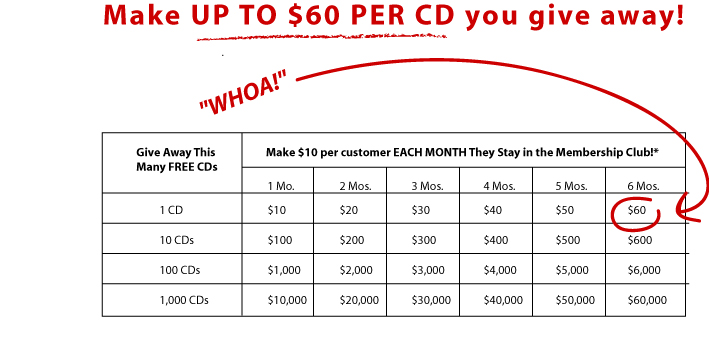 AND THAT'S JUST FOR 1 CD!
CHECK OUT HOW *INSANE* THOSE NUMBERS GET WHEN YOU GIVE OUT 10, EVEN 100 CDs!!!
Start A Preschool.com uses OneShoppingCart to manage our affiliate program. We will provide you with great tools to sell our product easily. We also provide you ways to track your hits, sales, campaigns, and commissions. OneShoppingCart will even credit you for sales even if your buyer does not buy on the first day. So even if they come back months later, you still get paid. We always pay the last affiliate who referred the customer to us.
Why such a high commission rate?
We payout these huge commissions because we want to have as many people as we can promote our product.
Who pays me?
We will pay you all your commissions via: PAYPAL.
When do I get paid?
As soon as your commissions total $50 or higher, we will pay you for the previous month between the 15th-30th of the following month. We may pay sooner, but you can expect your commissions to come every 30 days.
How do I promote?
Once you become an affiliate, all you do is promote the unique URL that we give you. You can advertise it using your website, banners, your own opt-in list, etc... We even give you sample emails and banner ads that you can use. It's so easy to promote with Start A Preschool.com!